SilcoStar 902E/922E Overview
The 902E & 922E systems are well proven and robust metering systems for the processing of LSR materials directly from the supplied 20 litre pails (902E) and 205 litre drums (922E). The systems are hydraulically operated with like sized metering pumps linked through 2KM innovative drive system. This coupled with efficient, balanced metering pumps give the system a fixed 1:1 volumetric ratio the processing of high viscosity materials.
The units use flat follower plates and pneumatic ram presses to ensure the material is processed free of air and always on ratio.
New features for 2016 include; pressure transducers to replace manometers, faster more powerful PLC and new "LSR family" design for the 922E (pictured).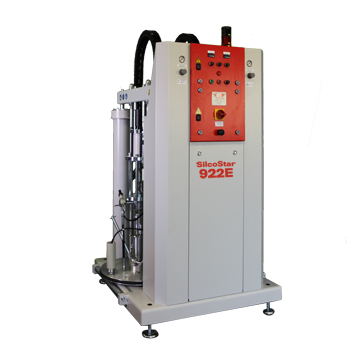 Metering technology
Hydraulically operated piston metering pumps
Ratio range
Fixed 100:100 parts by volume
Output (depending on Viscosity)
Adjustable to 1000 cc per minute
Viscosity range
100,000 to 1,000,000 cps
Maximum operating pressures
250 bar
Mixing options
High pressure inline static mixer
Metering control
Not available
Control systems
Bechoff PLC
Services
16 amp 3 phase + N +E
Options available
205 litre & 20 litre combination follower plate
Connection to 2 moulding machines
Colour metering system
Moveable version
Cooled mixer
Pressure regulation for metering screw
| Area of application | Industry | Process |
| --- | --- | --- |
| Moulding | Medical | Moulding of Catheters & air way systems |
| | Industrial | Automotive switchgear and seals |
| | Infant feeding | Moulding of feeding teats and soothers |
Typical materials processed:
Silicone