PGM Silicone Overview
The process Gear Mix Silicone is produced for the metering of the materials used in the manufactured of coated papers used in the label stock industries.
The unit has the ability to meter the polymeric systems with controlled release agents and catalysts to enable as specific material formulation to be applied on a repeatable and consistent basis.
The unique feature of this system centres around the use of mass flowmeters enabling all of the applications to be centred around the historical formulations.
The materials are processed from the supplied IBC or drums.
Catalyst handled locally from 20 litre vessel.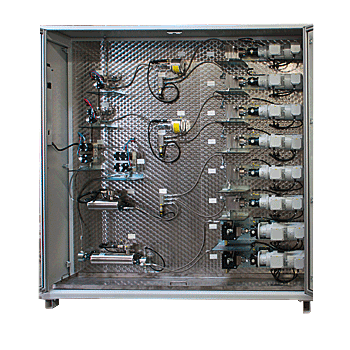 Metering technology
Individually driven precision gear pumps
Ratio range
100:100:10:1 to 100:10:1:0
Output (depending on Viscosity)
Adjustable to 2,000cc/min
Viscosity range
200 to 20,000 cps
Maximum operating pressures
100 bar
Mixing options
In line stage mixers for all components
Metering control
By mass flowmeters
Control systems
2KM manufactured microprocessor based system with 10.1 " 800×600 dpi touch screen
Services
3 phase +N+E 32 amp
Pneumatics for valve & transfer pump operation
Options available
Up to 5 components
Ability to have 2 material systems pre-loaded
Remote interface with control system
| Area of application | Industry | Process |
| --- | --- | --- |
| Laminating | Paper | Manufacture of release papers |
Typical materials processed:
Silicone