SilcoStar 923 for the processing of Liquid Silicone Rubbers (LSR)
2KM has long been seen as one of the leading suppliers of metering systems for the processing of Liquid Silicone Rubbers (LSR) directly from the supplied container. The first SilcoStar machines were produced by 2KM in 1975 and we have continued developing the machines to suit the markets and end users' requirements.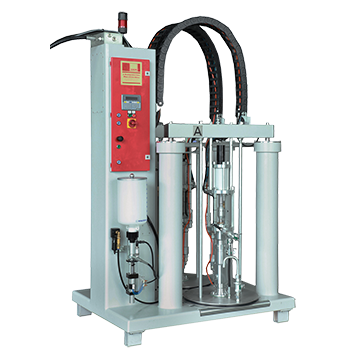 Our customer's feedback showed that due to material filling variation and base purging of the mixer head, the material containers did not empty together, causing stoppage to the system in order to change each material component. 2KM answered these concerns in the latest evolution- the SilcoStar 923. This unit retains the innovative hydraulic drive and linked metering cylinders of the previous models, but incorporates innovative variable volume metering pumps, coupled with constant drum volumetric monitoring.
The controller constantly measures the amount of material dispensed from the containers, then adjusts the volume of the pump to ensure that at the end of the barrel or pail 98% of the contents have been metered out. The volume of each metering pump can be adjusted up to 3% with either the A or B component pump un-affecting the mix ratio and material properties, contributing to cost savings.
The SilcoStar 923 is part of the Silicone metering family, covering hydraulic and servo electric driven systems, each designed and tailored for specific areas of application.