Resin Transfer Moulding System presented | JEC Paris 2013
New PGM for RTM presented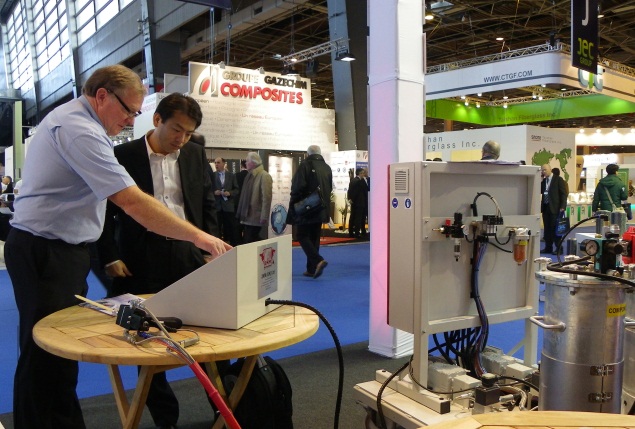 We were there! For the seventh consecutive year, the 2KM family was present at, what claims to be, the biggest Composite Show in the world!
During the exhibition, the visitors had the chance to get introduced to the Process Gear Mix RTM and benefit from our presence there to receive free advice for improving their process.
The new machine
The Process Gear Mix RTM is designed to cover the specific application of Resin Transfer Moulding and is guaranteed to make your process more efficient.
The system has been evolved from the ResinMix range where the flow of mixed materials is determined by the pressure in the mould. With the ResinMix, this is used for the direct vacuum infusion process whereas Process Gear Mix RTM, is designed for a closed mould process and the cavity needs to be filled and pressurised.
Flawless Automation
The System is based around a standard 2KM format of precision metering pumps driven, inverter controlled, geared AC motors.
The filling of the mould is regulated by the control system by adjusting the flow rate accordingly to the pressure in the mould. When the cavity is full, the system maintains the desired pressure until gelation occurs and the mixer head gets removed to start another process.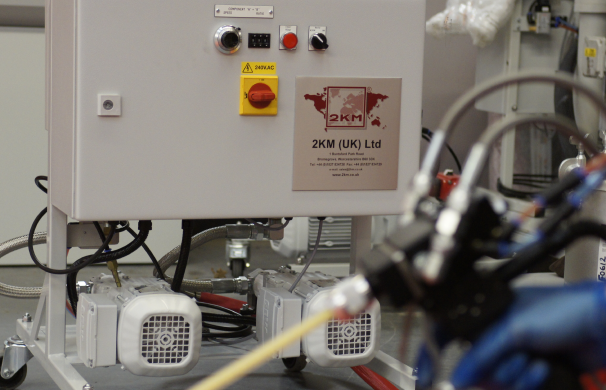 Control and Repeatability
One of the greatest benefits that Process Gear Mix RTM offers is full control of the process. The 2KM designed software enables repeatability and control of each step undertaken. Pump speed, flow rate, ratio, ratio tolerance and temperature are only some of the elements that the unit operator can monitor and adjust.
Materials and Industries covered
The Process Gear Mix RTM can cover a wide range of materials and sectors. The unit can be fitted with vessels to suit the materials being used. The vessels can be heated and agitated to condition the product correctly and are optionally fitted with a vacuum system to degas the materials prior to application.
Industries applying Resin Transfer Moulding such as automotive, aerospace, wind energy, marine, rapid prototyping and many more, can count on Process Gear Mix RTM to revolutionise their process.